Photo Credit: Alex Basaraba
What is the relationship between water and electric power transmission?
Water and electric power are very closely related. The energy industry is responsible for a large percentage of the United States' water use. For example, the US electricity sector (coal, nuclear, natural gas, oil power extraction, transport and processing specifically) is responsible for nearly 48% of total water withdrawals, 38% of total freshwater withdrawals, and 5% of the countries' consumptive water use (Diehl & Harris, 2014; Maulpin, 2014; Kenny, 2009). Krysten Averyt, a researcher from the University of Colorado, emphasizes the importance of water in the energy industry; "When water is too hot for cooling or when water supplies dwindle in dry or high demand months, power plant operations must be shut down or curtailed…Such disruptions to the power supply [like Leland Olds Coal Power Station in Stanton, ND] are becoming more common in a changing climate with a growing population" (Averyt, 2016). As indicated in the map below, the majority of water used by the electricity sector is from surface water and unknown freshwater.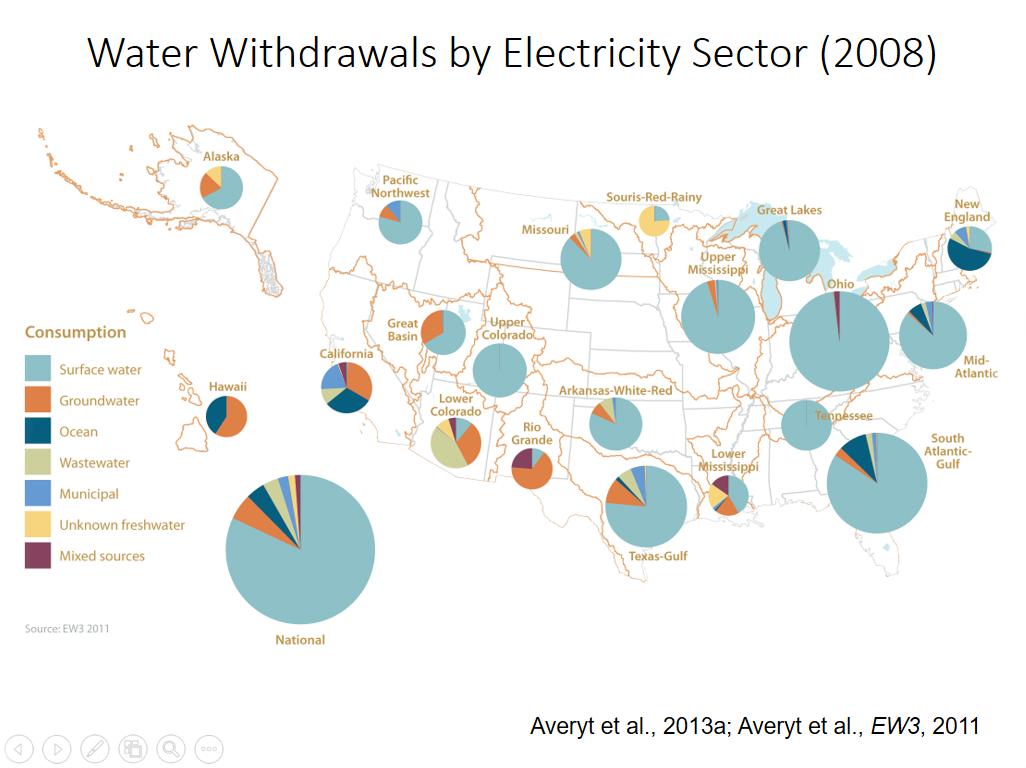 The energy sector is quickly shifting across the US and the world. Due to the immense costs of operating coal fired plants, many are shutting down. According to a recent report, the US Department of Energy has indicated that 97 of the 353 coal fired power plants operated by major electric utility companies have been shut down since 2005. According to the same report, "electricity generated using coal declined by 32 percent nationwide, while power generation from natural gas skyrocketed 159 percent." Coal and natural gas are responsible for generating 33% of the US's electric power and "in 2016, natural gas surpassed coal as the primary source of electricity for the first time in U.S. history."
In a recent study conducted by a team of researchers including Dr. Averyt, scientists from around the country compiled data from several sources (including the US Energy Information Administration) to better understand the impacts of our US power plants on water, carbon and temperature in the US. Innaccurate, incomplete and unreported data were analyzed and examined to compile an accurate database system that is now used by researchers, the federal agencies (like the EIA and USGS), and practitioners. According to Dr. Averyt's team of researchers, "Of the 19,558 [power] generators reported, 15,694 reported that they were in operation in 2008. The 3,864 generators not operating are likely small peaking plants that were not necessary. Even among the 15, 694 that were in operation, approximately 2,500 had capacities below 1 MW, including dozens that were only 100 kW and were used less than 20 h in 2008" (Averyt et al., 2016). It is important to note that the EIA is the only agency that collects data related to the demand on water from US power plants. This database is made up of nearly 5000 total power plants and accounts for close to 100% of powerplants operating when the data was collected in 2008. Keep in mind that the Bakken oil boom began close to 2008, therefore the water consumption by oil and gas extraction due to the large increase in wells for ND is not accurately represented in this dataset, although it does represent the demand for water by power plants.
As an example, the Navajo Generating Station at Navajo Nation is considering shutting its doors due to the unfavorable economics of operating a coal fired power plant and cheaper energy options. This will hurt the local economy and impact its workers. 935 employees worked full time at the power plant in 2014 (with an addition 400 temporary jobs every 3 years), 90% of which were Native American. In addition, it will impact the environment and the availability of water. To read the High Country News article, click here.
This case-study exemplifies the close relationship between energy and water. For example, most of the electricity created at the plant is used to deliver Colorado River water to Arizona cities through the Central Arizona Project. The mine draws 1,200 acre feet of groundwater from the Navajo aquifer each year. 28,000 acre feet (9 billion gallons) of water is consumed from Lake Powell each year for "steam generation and cooling", none of which is able to be returned back to its source. The Central Arizona Project alone requires 3 million megawatt-hours to "life, transport, and deliver 1.6 million acre feet of Colorado River water to Phoenix and Tucson annually (enough to power about 240,000 Arizona homes for one year)."
How is this relevant to Fort Berthold and the Three Affiliated Tribes?
This information is especially important considering the amount of water used by the oil and natural gas extraction industry on Fort Berthold and throughout the Bakken. According to a recent article found in National Geographic, due to the high salinity content of the geology in the Bakken, over 4 times more water is required for the maintenance of fracking wells in order to keep the oil flowing. This "maintenance water" must be freshwater (cannot be recycled as it contains too much salt to be effective) and it must be treated with biocide, a solution that kills bacteria harmful to oil. Using hydraulic fracturing techniques, each well generally requires 2 million gallons of water to begin the extraction process, but on Fort Berthold, an additional 600 gallons a day is needed (nearly 8-10 million gallons of water over a well's lifetime). In 2012, the Bakken formation used nearly 5.5 billion gallons of water and estimates surpass 10.2 billion gallons a year when the total expected number of wells are developed (28 million gallons a day). These numbers indicate the need to understand where our water and electric power comes from, and to determine how we would like to plan for their use in the future.
This has important implications especially due to the fact that North Dakota is one of the top ten most arid States in the US, receiving "less than 13 inches of rainfall each year in its driest areas." According to Dr. Averyt's team of researchers, "For arid states such as in the southwestern US, and other regions prone to drought such as the southeast, the misrepresentation of water withdrawals and consumption in federal data sets may be problematic for regional water planning." In addition, considering the potential impacts researchers predict that Climate Change will have on our water, temperature, and extreme weather events, can the US implement an electrical grid system that can meet our energy needs in a sustainable way? What can we do to help maximize our electrical power interests while preserving our cultural resources, water resources and the environment? Climate scientists predict an increase in the frequency and intensity of drought, decrease in groundwater and stream flow and an increase in demand for water, as well as an increase in the duration and frequency of heatwaves and an increase in extreme weather events like floods, storms, ice and rain. Researchers predict that this demand for water will only increase as temperatures rise; "In some places, more water will be required for power generation in order to meet the electricity demands of a growing population in a hot climate" (Averyt, 2016).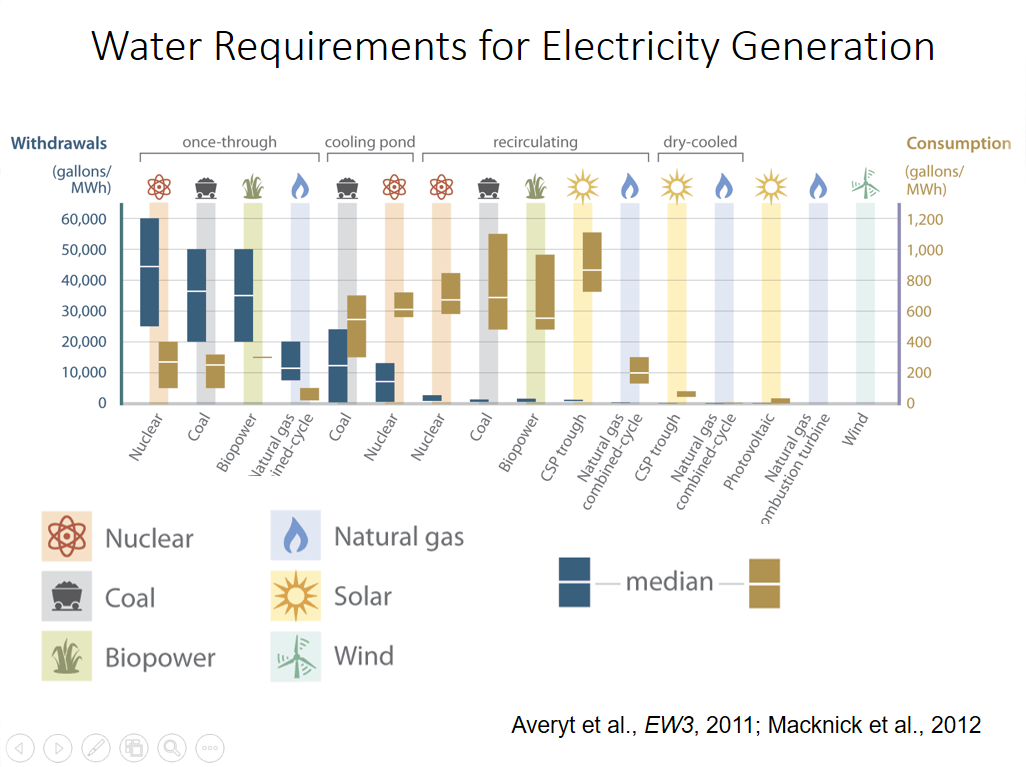 So what's next?
As part of the Fort Berthold Comprehensive Regional Transportation Plan, we will be developing an Electric Transmission Plan and a Pipeline plan that will help us understand the broader picture of how we currently use energy and water on Fort Berthold. It will also help us formulate decisions about where we would like to see this infrastructure in the coming twenty years. If you would like to get involved, be sure to check out our website at fortbertholdplan.org and like, follow and share us on Facebook, Instagram and Twitter.